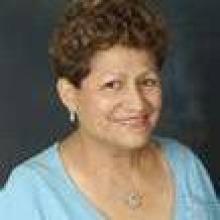 LULAC National Vice President for the Midwest
"When I became a citizen in 1972 it's like somebody put a little fire under me and said, 'Blanca, you're going to help other people become citizens as well.' "
Blanca Vargas was born in Durango, Mexico on a rare snowy day; this inspired her name. Blanca spent her childhood in Durango, where she was competitive in sports, danced ballet folkorico and helped her father at his pharmacy. From him she learned the concept of helping others, as he often helped his clients that couldn't afford badly needed medications.  Blanca also learned British English from a private teacher at Escuela America during her youth.
Following her father's death in 1962, Blanca's mother decided to move to Chicago, where her brother Jose Cruz Alba lived while directing the Mariachi Potosino in the Pilsen neighborhood. Blanca first lived with her brothers in Tampico and worked as an executive secretary before following her mother shortly thereafter at the age of 17.  In 1964 she became a student at the now closed St. Patrick's High School for Girls and graduated in the class of 1967 after being advanced twice.  During these years Blanca again played sports and found comfort going to church at Precious Blood, near Harrison and Western, which was near her home.  There she became involved with the youth leadership program, taught catechism and translated the church's newsletter into Spanish.  She was so involved in the church that Blanca was encouraged to become a nun by many. However, she had visions of helping individuals beyond the church as well.
In 1969, Blancabecame involved with Ayuda, a weekly call-in television program for Latinos in Chicago on Channel 26 that was hosted by Ruth Mojica Hammer.   While there, through the mentorship of Mojica Hammer, she began building her networks and connecting with other community members.  She became involved in several other organizations, such as People's Yes, which was involved in employment assistance. 
Blanca Vargas was inducted to LULAC (League of United Latin American Citizens) in 1969 and remained active within the organization for almost 20 years. LULAC focused on helping individuals learn about and complete the process for citizenship. Blanca also worked with Ser Just for Progress, an organization established by LULAC, which helped high school students gain access to technical programs, job training, and ESL classes.  In 1972 Blanca became a United States citizen, which deeply motivated her to find additional ways of helping those around her.  That same year, Blanca helped found the first League of United Latin American Citizens Chicago Council, which was dedicated to preparing immigrants to become United States citizens and active voters.  From 1973-1978 Blanca worked at the Office of Governor Dan.  During this period she became a member of the Fiesta Del Sol planning committee and through her connections with NBC local anchor, Linda Alvarez, the festival was televised for the first time. 
Blanca also co-hosted the call-in radio talk show Las Voces Femininas, on WOJO 1051.  The show was hosted by women but served all callers from the community with information about job offerings and services available from federal agencies.  In 1976 Blanca once again worked with Ruth Mojica Hammer to create the Mexican American Business and Professional Women's Club, and eventually served as the organization's secretary.
The latter part of Blanca's career was dedicated to job placement, which she describes as her "cup of tea."  In 1978 Blanca began work as an Employment Specialist at Casa Central, a nonprofit social services agency in Humboldt Park dedicated to helping Latino residents locate employment.  After several years she moved on to work at the Chicago Urban League (1979-1981) and then the Illinois Department of Human Rights (1981-2012), where she was able to focus her efforts on those from underprivileged communities, primarily African American and Latino.  Upon her retirement in February of 2014, Blanca was honored for 35 years of service to the community of Cicero, where she lives.  She has also been recognized for the nearly 20 years she served as LULAC National Vice President for the Midwest, National Chaplain, Illinois State Director and President of the Local LULAC Council of Cicero and a member of the Board of Directors for National LULAC Educational Centers.