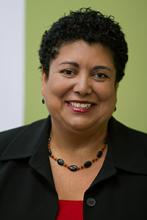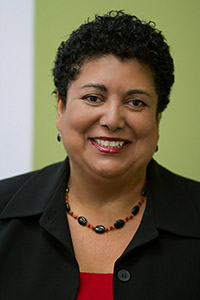 Principal at Diversity Solutions Group, LLC
co-author, Barron's The Complete Job Search Guide for Latinos
"I don't want to just be a stewardess and just serve coffee – I want to be Lois Lane…"
Rose Mary Bombela-Tobias was born in East Chicago, Indiana to Mexican migrants. After her father's retirement from working in a steel mill while she was in grammar school, her family relocated to El Paso, Texas. There, she attended a Lithuanian school where she was one of the few Latinas.  It was when she attended Urban High School, whose population was predominantly children of white military families, that she began noticing social politics.  For example, she noted that as more Latino students enrolled in the high school, most were being placed in remedial courses. 
During her time at the University of Texas, El Paso, Rose Mary joined a Latino sorority, a social services organization that fought for a Latino Studies program and was politically active in the grape strike of the farm worker's struggle.  Upon graduating with a degree in journalism in 1968, Rose Mary moved back to different parts of the Midwest to cover politics for various radios stations.  In 1978 she moved to Chicago, IL to work for Governor James Thompson as his Assistant Press Secretary for Latino Media.  She was subsequently appointed as Special Assistant for Latino Affairs.  In this capacity she successfully increased the budget for bilingual education in Illinois through her service on that committee.
In 1982 Bombela-Tobias became the Assistant Director at the State of Illinois Department of Central Management Services. Under her leadership the state developed the first Hispanic Employment Plan and started the Upward Mobility Program for women and minorities working in state government.  Additional initiatives she created include the Illinois Minority and Female Business Enterprise Program and the statewide day care program, for children of state employees. These efforts enabled more women to seek employment while knowing that their children would be cared for during the day.  For her impact in these realms, in 1984 Bombela-Tobias was recognized by the Mexican American Business and Professional Women's Club with the Women Pioneers award, and was also the highest-ranking Latino in Illinois State government.
In 1991 she transitioned to Director of the State of Illinois Department of Human Rights, which made her the first Hispanic in Illinois to be appointed to the Governor's cabinet.  In 2004 she became a Principal at Diversity Solutions Group, LLC with her partner Murray A. Mann.  Together, they co-authored Barron's The Complete Job Search Guide for Latinos in 2004.     Bombela-Tobias has been listed in Today's Chicago Woman Magazine as one of "100 Women to Watch" and has also received awards from the National Network of Hispanic Women and the Midwest Women's Center.