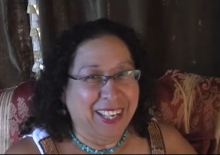 "I am a socialist feminist because I strongly believe that everybody can someday be equal and that we can end the oppression that we as 3rd World Women as well as other oppressed groups face."
Yolanda Alaniz was born in Brownsville, Texas and raised in Sunnyside, Washington in the Yakima Valley where she and her family worked as farmworkers. Tired of earning very low wages, her mother organized rallies along side other farm workers and most notably union leader Caesar Chavez to protest the unjust conditions and unfair wages many workers faced.
In 1969, thanks to the guidance of diversity recruiters and her mother's ardent motivation to have her daughter attend college, she began attending The University of Washington. During her undergraduate years she became an influential member in Chicana/o rights organizations like MEChA, Brown Berets, and Las Chicanas.
In 1975 she was one of the leaders in the student, staff and faculty strike protesting the firing of two Chicano administrators and the secretary of Chicana/o Studies from the University of Washington. The same year she joined campus Radical Women, a socialist feminist national organization. She also worked as a reporter for the campus daily. She frequently wrote articles about women and people of color issues. Yolanda Alaniz credits higher education for opening her eyes to political injustices and sparking her interest in politics and writing.
Yolanda Alaniz graduated with a BA in journalism and became active in City of Seattle politics through the Hispanic Association of City Employees and the Seattle Women's Commission. Yolanda Alaniz made history when she ran for City Council in 1991 as the first Latina feminist socialist and city employee.
In 1995 she moved to Los Angeles and continued her political activism with Radical Women and the Freedom Socialist Party. She focused on women, lesbian and gay issues for workers and immigrant rights. Yolanda continued her education at the University of California and earned a Masters of Library and Information Science. Today, she works as an archivist and writer. She has been apart of works such as Nellie Wong's Voices of Color and iViva la Raza!. She also serves on the Editorial Board for the Freedom Socialist newspaper where she coordinates the Voices of Color column