This Historia was researched and created by CPMR Intern Taylor Davidson.
Jose "Joe" Campos Torres was born on December 20, 1953 and died tragically on May 5, 1977. The 23-year-old's death sparked outrage throughout Houston, Texas where it occurred.  Torres, a Mexican-American and Vietnam War veteran, was dressed in his Army fatigues at a bar in a Hispanic neighborhood when he was arrested for disorderly conduct [1]. He had gotten into a fight with another man in the bar, and the bar's owner called the police [2]. Six police officers took Torres to "The Hole," a place where police were known to beat Mexicans and other minorities [2]. There, the young man was severely beaten before officers attempted to take him to the city jail. The jail, however, refused to accept Torres because of his serious injuries and demanded that he be taken to Ben Taub General Hospital. Torres was never taken to the hospital. Two days later, his body was found in Buffalo Bayou, a slow-moving river that runs through Houston. The officers reportedly shouted racial slurs as they pushed the handcuffed young man into the river [2].
Two of the officers, Terry Denson and and Steven Orlando, were convicted of negligent homicide, a less serious charge than first or second degree murder, and rather than serving jail time, they received one year of probation and paid a $1 fine [3]. The following year, Denson, Orlando, and another officer, Joseph Janish, served short prison terms after being convicted of federal civil rights violations [3]. The lack of justice for Jose Torres led to even more distrust of police in the Mexican American community. Almost exactly a year later, during a Cinco de Mayo celebration on May 7, 1978 riots erupted in Moody Park. Fifteen people were reportedly injured during these riots and dozens were arrested [1]. The Moody Park riots also resulted in "hundreds of thousands of dollars in property damage to businesses and police vehicles," and fortunately, serious police reforms [4].
Moody Park Riot News Report
At the time of Torres's death, Nancy De Los Santos, whose story is featured on Chicana Por Mi Raza, was living in Texas, attending the University of Texas at Austin.  She graduated with a Bachelor's of Science in Radio, Television, and Film, and although she never considered herself a photographer, Nancy took hundreds of photos in the 1970s before pursuing a career in media. She was able to document various events that did not receive much attention in the mainstream media or news, including local protests against police brutality in the wake Torres's death. Her photos from a march in Austin against police brutality show members of the Brown Berets, police officers, and José Angel Gutiérrez, a speaker at the march, among other protesters.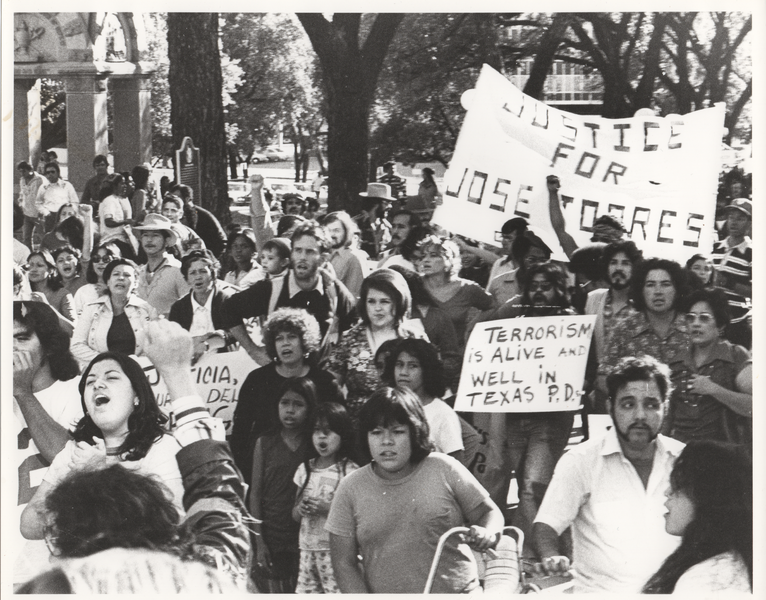 Friends and family of Torres still work to bring awareness to his story. His sister, Janie Torres, and his friend, Carlos Calbillo, are among the community members attempting to have historical markers, commemorating Torres and the community's reception of his death, placed in Moody Park [5].
Torres's story seems  eerily familiar as tensions between police and minority communities continue to be a problem in the present day. Over the past couple of years, the United States has seen protests throughout the country demanding justice for Michael Brown, Eric Garner, Freddie Grey, Sandra Bland, and many others who have died in confrontations with law enforcement or in police custody. The officers involved rarely receive criminal punishment. Torres's death shows that police brutality has been and continues to be a devastating reality for minority communities, and sharing his story helps to bring awareness and change to the broken systems that allow it.
[1] http://www.chron.com/news/houston-texas/article/Soldier-s-death-brings-more-tragedy-for-family-of-2081624.php
[2] https://www.youtube.com/watch?v=AsKko-_d8sY
[3] https://en.wikipedia.org/wiki/Murder_of_Joe_Campos_Torres
[4] https://en.wikipedia.org/wiki/Moody_Park
[5] http://www.chron.com/houston/slideshow/Remembering-Joe-Campos-Torres-and-Houston-s-Moody-108489/photo-6271142.php
Other Resources